Whether you're a newcomer to the carpet cleaning industry, or you're a veteran with several years on the wand, choosing the right equipment is the most important decision you'll make.
Great results and customer satisfaction are how you build a strong carpet and upholstery cleaning business that will thrive in the long term.
Unfortunately, since commercial hot water extraction cleaning machines were introduced to the UK in the 1970s very little has changed.
Investment by manufacturers in the development of new technologies and methods for our industry has been poor, and while the aesthetics of the machines have changed, the technology and internal workings have not kept pace with other industries, with the build quality, in general, being poor.
And due to their design and current lack of systems to control the machines' critical components, many machines suffer from performance and reliability issues.
Indeed, there is an acceptance by industry professionals to expect periodic breakdowns and ongoing maintenance due to leaks and short-lived components.
But there is a company in the carpet cleaning industry doing things differently.
Our Background
Back in the 1990s, Mark Mullane started a specialist carpet and upholstery cleaning company based in Portishead called Aquadri. The company grew steadily and traded within a 50-mile radius of Bristol.
Whilst operating the Aquadri business, Mark found that his success and quality of work were attracting enquiries from large commercial companies.
While this was welcome, moving from residential work to commercial proved to be tricky due to the construction of low-profile carpets and their impervious backs which would not allow airflow to be pulled through the backing. This meant that traditional standard cleaning methods such as hot water extraction could not always deliver the standards Mark required.
After extensive research, it became clear that there was nothing available that would better the systems and methods he was already using. Further research confirmed that the norm in the industry was to extract and then run a bonnet machine over the carpet afterwards or just bonnet pad clean the surface of the fibres.
Neither of these methods could achieve the results Mark expected and so he started to look for alternatives and through his own experience of cleaning carpets realised that heat played a pivotal part in the cleaning processes he was already using.
He then started experimenting with heating pads and prototyping chemicals with a toll blender and found that a combination of an alcohol-based pre-spray release agent applied directly to the carpet followed by mixing a reactive solution via a heated pad produced startling results.
Now it was time to tackle the biggest issue of all.
The Machinery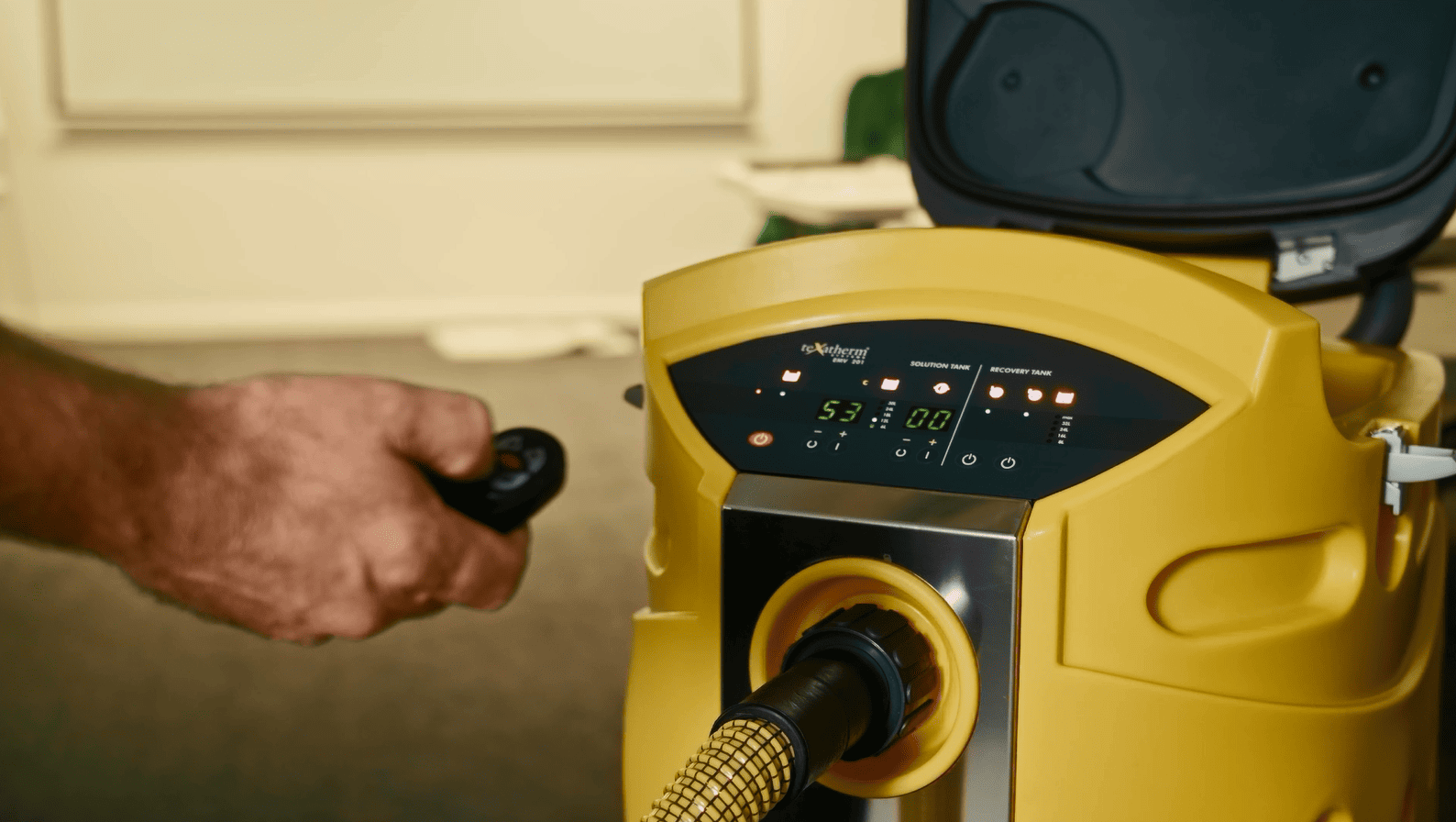 There has never been one method or cleaning machine that would clean the vast array of carpets and upholstery fabrics available today.
To this day, most companies purchase multiple pieces of expensive equipment to enable them to complete the range of jobs they face each week. Historically, this was also the case for Texatherm operatives who still needed hot water extraction machines to clean upholstery and deal with certain types of carpet cleaning jobs.
While our clients loved our Texatherm system, they still had to set up other machinery when on jobs that encompassed carpet, upholstery and possibly hard floor cleaning. The feedback from our clients was that they would like to be able to set up one machine that could adapt, combine and deliver multiple cleaning methods.
After five years of research and development, the EMV201 was born (now the EMV409)
With the EMV,  We systematically went about scrutinising every individual component in an extraction machine, followed by detailed consultations enlisting the help of engineers from relevant industries. This gave us an understanding of why machines were currently unreliable with short life spans. We then set about individually designing each weakness out of our design. This was achieved by commissioning specialists in each field and developing new control systems whilst stipulating that our suppliers deliver to our design specifications and not theirs.
The Texatherm Difference
While the EMV is first and foremost a hot water extraction machine, it has been designed to allow you to clean using other methods that would usually require you to spend thousands of pounds on additional equipment.
The nature of carpet and upholstery cleaning means that there isn't one single method that can clean all types of furnishings effectively and it is important to be able to adapt and change processes and methods as required.
Being able to utilise multiple methods of cleaning makes the Texatherm system incredibly cost-effective, particularly for new start-up carpet cleaning businesses.
When you invest in Texatherm, you're able to clean using hot water extraction or with a low moisture process that leaves carpets dry in as little as 30 minutes. In addition, you can clean using our dual combination method, which achieves next-level results.
The Texatherm system allows you to effectively clean, carpets, upholstery, curtains, mattresses and hard floors!
Indeed, our digital EMV 409 allows cleaning technicians to switch between cleaning methods in minutes. No wasted time packing away equipment and setting up new equipment if a new cleaning approach is needed in order to complete a job.
Innovative technology & industry-first features
Texatherm have heavily invested in the design, development and manufacture of innovative technologies, creating the worlds most advanced professional carpet cleaning machine with built-in industry first features developed to solve current industry wide problems.
Worlds first digital pump flow control system that provides automated instant true pressure at the tool end ensuring no performance drops when at working at distance or above the machine with extension hoses . Work with 13 different pressure settings for complete moisture control when cleaning a large variety of carpet and fabric types.
Optimised flow for higher efficiency rinsing without over wetting carpets with high pressure pumps, resulting in outstanding dry times and superior cleaning results.
Custom wound 3 stage dual vacuum motor system with optimised, non-restrictive airflow paths, delivering very high performance recovery.
Plug & play interface for all working parts.
Fitted with ip68 waterproof connectors - legally, safely & easily, unplug components for maintenance or replacement, all in a matter of minutes, without having to strip and crimp mains electrical wiring.
Industry's only machine with twin tank gate valves. Easily and quickly empty your solution and recovery tanks - no time wasted draining the solution tank using pump feed and open flow hose and no risk of introducing moisture into your vacuum motor bypasses.
Industry-first full transceiver remote control - leave your EMV downstairs and operate your heat, pump, vacuum 1 & vacuum 2  from up to 300 meters away.
Built in, bespoke, 316 marine grade stainless steel Duo-therm heating element with automated temperature control. No extra costs of heavy, add-on external heating units.
Built in noise baffling down to 76DB, making the EMV the quietest machine in its class. No extra cost of adding on noise baffling equipment.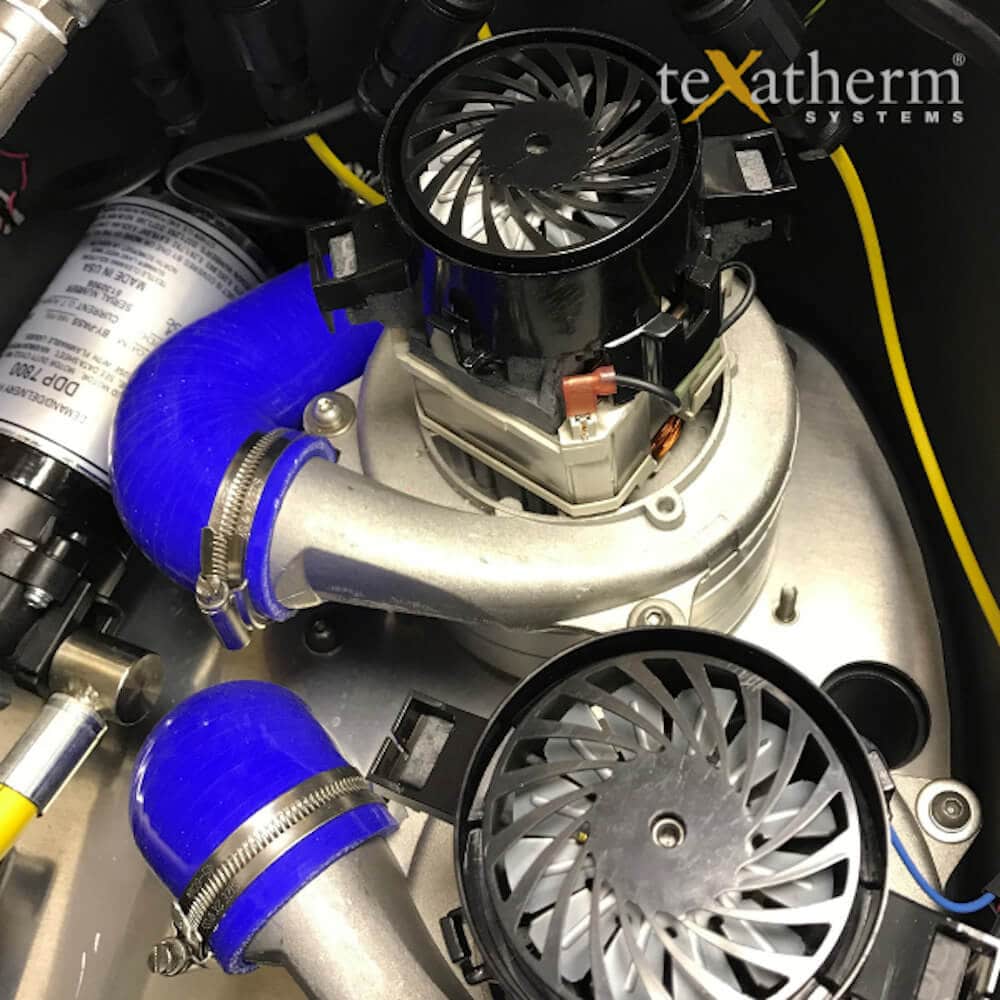 Further benefits of the patented Texatherm deep cleaning system
Genuine deep cleaning system that has been granted two patents.
30-minute dry time.
70% Less water is used when compared to conventional extraction.
60% reduction in operating time allowing technicians to clean larger areas quicker (up to 200sqms an hour) saving on labour costs and icreasing profit margins.
Reduction in power consumption when compared to conventional extraction.
Risk-free, guaranteed not to stretch, shrink or split seems.
Built-in biocidal sanitiser meeting BSEN 1040 standards.
Simplified cleaning chemistry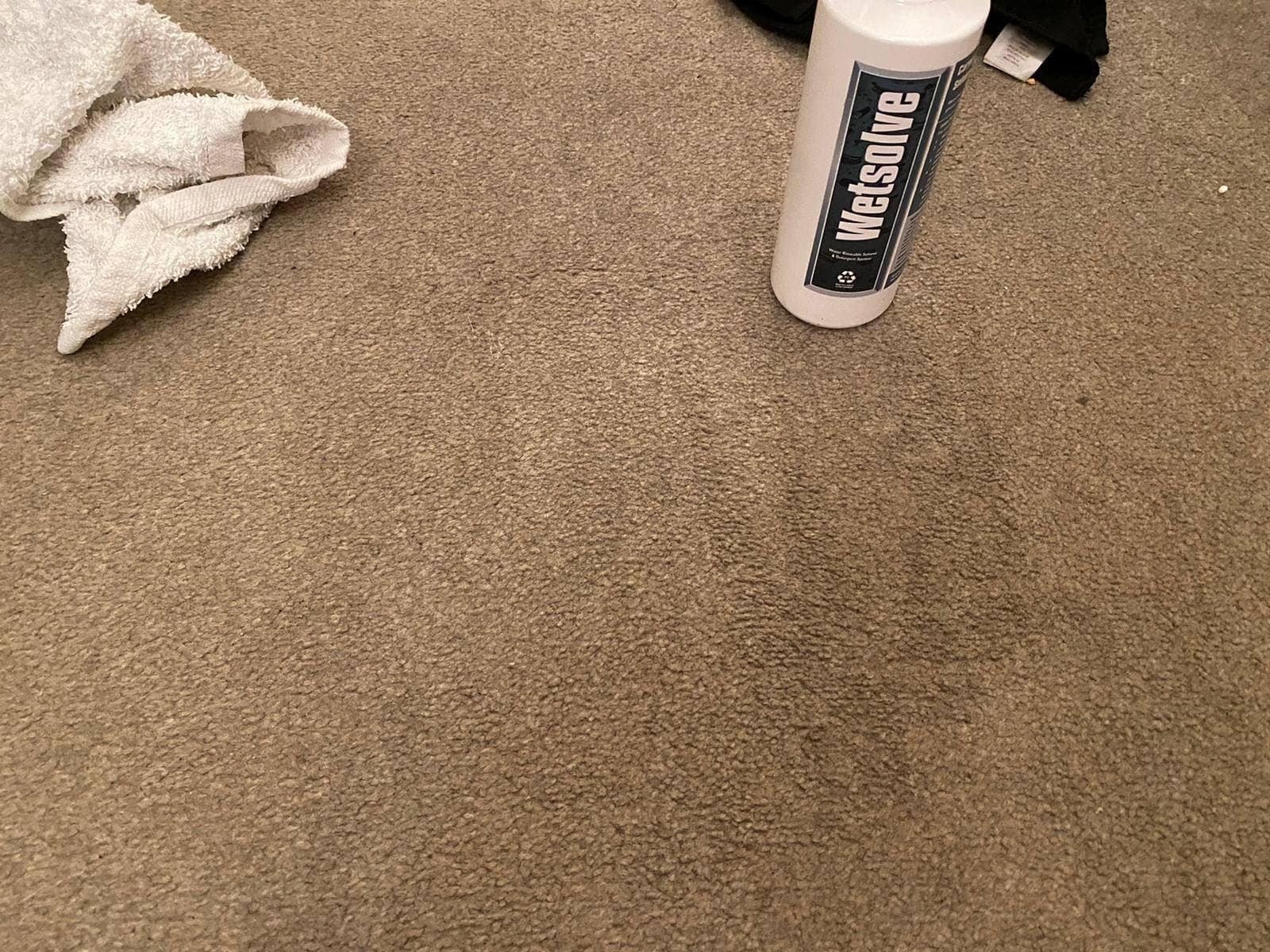 With such a large variety of chemical solutions available, cleaning chemistry is a topic that can easily cause confusion among new startups.
And this is why Texatherm have taken a simplified approach to chemical solutions, developing a small multi-purpose range of powerful, industrial strength solutions that can be used for standalone extraction cleaning or in conjunction with our patented cleaning system and unique combination cleaning system.
Are you ready to experience the difference can Texatherm can make to your business?
Whether you're new to the carpet and upholstery cleaning industry, or you would like to improve the systems and processes of an established company, we'd love to show you how Texatherm can improve your business.
We believe we offer a real step-up in performance, reliability, economy and versatility.